---
About Boogie Nights Discos
Boogie Nights Discos is DJmark accredited at Platinum level. What does this mean?
"The night was fantastic and everyone is still talking about it!"
"Boogie Nights Discos have been in the business for about ten years now. We can provide a professional service for just about any type of event be it parties, weddings, birthdays, leaving do's, surprise parties or any other type of event such as corporate events and presentations.

We always carry backup equipment (although our regular equipment is professional grade and properly maintained) and we can arrange various setups to cater for any price bracket. We are always open to ideas and suggestions from the client because it is your event and your day.

Whether you have a small party in a pub right up to a large wedding in a hall, Boogie Nights Discos can adapt their disco rig to cater for all and will help ensure that your wedding or party is just how you want it to be - a great success."
Official Boogie Nights Discos Pictures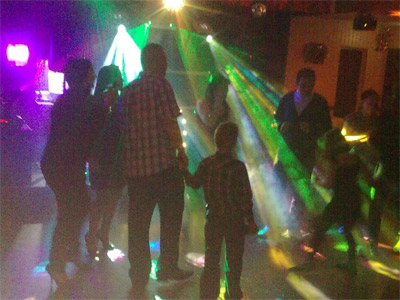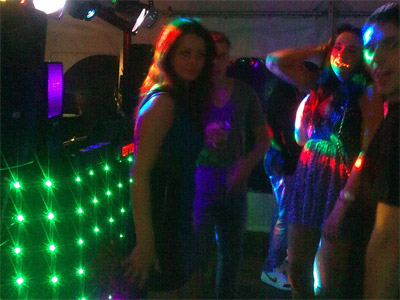 Services Offered By Boogie Nights Discos
Mobile disco service with sound system and effects lighting
Venues Played
Since joining needadisco.com, Boogie Nights Discos has secured work at the following venues:
New Romney Bowls Club, New Romney
---

St Michaels Community Centre, Welling
---
Eltham Town Football Club (The Oaks), London
---
Bellegrove Social Club, Welling
---

Viewpoint Community Centre / Club, Gravesend
---

Ditton Community Centre, Aylesford
---

Barnehurst Golf Course, Bexleyheath
---

New Moon, Folkestone
---

St Mary Kippington Centre, Sevenoaks
---
Coverage Area
Based in Kent, the approximate area covered by Boogie Nights Discos is shown in green...
Client Feedback
Clients who find their DJ via needadisco.com are invited to feed back their experiences a few weeks after the event.
The star ratings below are calculated based on 7 client review(s).
| | |
| --- | --- |
| | Promptness |
| | Standard of Equipment |
| | Standard of Presentation |
| | Music Choices & Requests |
| | Audience Interaction |
Mo hired Boogie Nights Discos to perform at a Halloween Party event at New Romney Bowls Club in New Romney (TN28) on 31/10/2012.
"The night was fantastic and everybody is still talking about it. All who missed it are upset and said we must have it next year! Thanks a lot."
---
Sharon Kelly hired Boogie Nights Discos to perform at a Birthday (12-15 years) event at Private residence in Leigh on Sea (SS9) on 29/09/2012.
"Booked Boogie Nights through your website for my daughter's 15th birthday party. We had 80+ 14-16 year olds to cater for from 7pm until 11pm and Hadyn and Sam were brilliant. The kids loved their music and they were friendly, approachable and very professional"
---
Terry Meegan hired Boogie Nights Discos to perform at a Birthday (16-21 years) event at Eltham Town Fc in London (SE9) on 16/11/2012.
"Boogie Nights provided the perfect disco for our daughter's 18th birthday party. It was a fantastic evening and all her friends said what an amazing time they had, even if their feet were aching after so much dancing! The non-stop music, lights and smoke made such a great atmosphere that we would have no hesitation using them again in the future and will definitely recommend them to all of our friends."
---
Scott Baker hired Boogie Nights Discos to perform at a Birthday - Adult 40th event at Bellegrove Social Club in Welling (DA16) on 04/01/2013. No written feedback was given, but this client answered multiple-choice questions which contributed to the star ratings shown above.
---
Julie Cunningham hired Boogie Nights Discos to perform at a Birthday (7-11 years) event at Ditton Community Centre in Aylesford (ME20) on 19/01/2013.
"Very friendly - professional and helpful. Fast response to email questions. Would recommend to anyone."
---
Sally Good hired Boogie Nights Discos to perform at a Birthday - Adult 70th event at Viewpoint Community Centre / Club in Gravesend (DA12) on 12/01/2013.
"There would be no question - I would hire Boogie Nights again! Both Haydn and Sam were very friendly and professional. The variety of music was spot on. Everyone really enjoyed themselves and many people were asking where I found them. I will definitely be recommending to family and friends. Thank you for helping make my mum's 70th a fantastic party!"
---
Lynne hired Boogie Nights Discos to perform at a Birthday - Adult 60th event at Barnehurst Golf Course in Bexleyheath (DA7) on 23/03/2013.
"Just right for a family-oriented 60th birthday party. Very happy."
---
The following DJs are available through Boogie Nights Discos:
Hadyn Arnold
"Boogie The Night Away In Style!"
Hadyn Arnold has experience gained as a mobile disc jockey. Music specialities include:
Contact Boogie Nights Discos
Hadyn Arnold at Boogie Nights Discos can be contacted on 01322 386045 or mobile 07889 117554
Request FREE Quotes Now!
---
Direct Email
Email Boogie Nights Discos using the form below. This is a private email which will go directly to the company. If you would like disco quotes from all of our available DJs covering your venue, Click Here
---
This page was last updated: Sun 12 May 2013 20:53:23 BST
Content may be dynamically added when the page is refreshed.
needadisco.com is not responsible for the content of external websites