Steve Justin Roadshow
Professional Disco - Professional and Reliable
Good evening, I'm Steve from Steve Justin Roadshow. Welcome to our profile page.
Steve Justin Roadshow has been a needadisco.com member since 2012 and we are delighted to have earned a DJmark Gold Award underlining our commitment to great customer service.
Please read on to find out how we can help you have an unforgettable party...
Introducing Steve Justin Roadshow
4.8 out of 5 rating from 18 reviews
Steve Justin Roadshow is figure headed by me Steve Justin. I have DJ'd for all my working life and I am one of those few but lucky people who are able to say that their work is their hobby. I can honestly say I really do enjoy my work, not just technically, I get a real buzz seeing a crowd having a good time. My goal is to build rapport with my audience to make them feel relaxed ultimately encouraging them to come together and have a memorable time.

I am constantly collecting and adding to my repertoire of music. My catalogue is extensive and very varied and virtually all genres are covered however diverse.

I am assisted by a sound engineer and a lighting technician. Both are reliable and have been with me for many years. As a team we blend well and endeavour to create a formidable road show.

- 100% commitment to provide and satisfy client/host requirements
- extensive range of professional-grade modern sound and lighting equipment, with technical expertise to customise for every personal preference
- years of experience have enabled my team to attain good working relationships with numerous venue managements
- our dress code is your choice. We will dress to impress, dress up or dress down. Theme nights are not a problem!
- our rates are competitive and will be tailored to your event large or small
Steve Justin Roadshow is a Solo Operator with non-performing staff
This means that Steve Justin will be your DJ
Why not give them a call? 07999 351229
Meet The Steve Justin Roadshow DJs
Steve Justin
Professional D.J. - Vast Experience in all events
More Info...
General Services Offered by Steve Justin Roadshow
Event Types
Adult Birthdays
Anniversaries / Reunions
Charity Fundraisers
Children's Parties
Corporate Events
Christmas Parties
Engagements
Funeral Wakes
New Year's Eve
Pubs & Bars
School Discos
Sports/Social Events
Weddings

Venue Types
Community Halls
Conference Venues
Historic Buildings
Hotels
Leisure Venues
Marquees
Outdoor Events
Private Homes
Pubs & Bars
Schools
Sports & Social Clubs
Theatres / Arenas

Age Groups
Tots 0-6 years
Children 7-12
Teens 13-16
Young Adults 17-21
Adults over 21
Areas Covered by Steve Justin Roadshow
As you can see, Steve Justin Roadshow travels extensively around the region from their base in London and may be willing to travel further afield for a special event.
Get FREE Quotes Now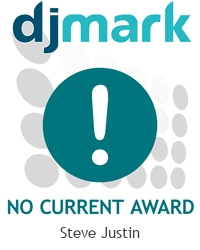 Customer Reviews & Feedback
Overall average scores for each attribute provided by verified clients of Steve Justin Roadshow over the past 5 years
Why 5 years?
| | | | |
| --- | --- | --- | --- |
| | Audio Quality | 4 out of 5 | |
| | Lighting Quality | 4 out of 5 | |
| | Presentation of Equipment and DJ | 5 out of 5 | |
| | Music Choices | 5 out of 5 | |
| | Handling of Requests | 5 out of 5 | |
| | Microphone Use / Audience Interaction | 4 out of 5 | |
| | Would Recommend to Others for Similar Events | 100% | |
| | Value for Money | | |
Latest feedback comment for Steve Justin Roadshow


"Allot of feedback from everyone saying how good the music was! Thank you very much, was a great night. Photos, although not professional, were a great added extra and was a nice surprise."
Read detailed feedback for Steve Justin Roadshow
Venues Played
Would you like your suppliers to be familiar with your venue? Here's a list of places that Steve Justin Roadshow has played at recently:
Like what you see?
Get FREE quotes from Steve Justin Roadshow and other suppliers in your area! Just supply a few basic details...