AClassEntertainments.co.uk
The Premier Event Specialists With Passion And Fun
Welcome to the profile page for AClassEntertainments.co.uk.
AClassEntertainments.co.uk has been a needadisco.com member since 2012 and we are delighted to have earned a DJmark Platinum Award underlining our commitment to great customer service.
Please read on to find out how we can help you have an unforgettable party...
Introducing AClassEntertainments.co.uk
4.8 out of 5 rating from 80 reviews
With over 20 years' experience in the entertainments industry we can help make your event an amazing experience.

A Class Entertainments pride ourselves in offering the very best in wedding, corporate and social events entertainment. Specialists in co-ordinating and event planning we provide the very best entertainment to suit your requirements.

Being direct with our clients we are able to give the very best service to ensure you receive what you want and nothing less. Our motto is 'If you are happy then we are happy'. The reason why A Class Entertainments can hold its head high is because of one simple belief and that is if we can be part of making others smile, then we are doing something right.

We have been part of thousands of people's smiles every year as we provide services to clients who know that what they want is something just a little bit more special than before.

We are the innovators of the 'Club Experience' - surround experience, 'The Decades Parties' - the best parts of each decade mixed to perfection with the words on big projectors, 'Room in a Room Discos' - where the lights and sound are projected around you, 'FirstSong' - your first song written for you, in front of you - ideal for weddings, company branding etc. and 'PartyStarz' - children's entertainment where you are the starz of the party!
AClassEntertainments.co.uk operates as a Multi-Op
This means that Kennth Psciuk or one of their regular DJs may attend your event
Why not give them a call? 07414 749123
Meet The AClassEntertainments.co.uk DJs
DJ Baily
The Premier Event Specialists With Passion And Fun
More Info...
General Services Offered by AClassEntertainments.co.uk
Event Types
Adult Birthdays
Anniversaries / Reunions
Charity Fundraisers
Children's Parties
Corporate Events
Christmas Parties
Engagements
Funeral Wakes
New Year's Eve
Pubs & Bars
School Discos
Sports/Social Events
Weddings

Venue Types
Community Halls
Conference Venues
Historic Buildings
Hotels
Leisure Venues
Marquees
Outdoor Events
Private Homes
Pubs & Bars
Schools
Sports & Social Clubs
Theatres / Arenas

Age Groups
Tots 0-6 years
Children 7-12
Teens 13-16
Young Adults 17-21
Adults over 21
Areas Covered by AClassEntertainments.co.uk
As you can see, AClassEntertainments.co.uk covers a large part of the country and may be willing to travel further afield for a special event.
Get FREE Quotes Now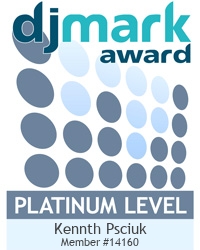 Customer Reviews & Feedback
Overall average scores for each attribute provided by verified clients of AClassEntertainments.co.uk over the past 5 years
Why 5 years?
| | | | |
| --- | --- | --- | --- |
| | Audio Quality | 5 out of 5 | |
| | Lighting Quality | 5 out of 5 | |
| | Presentation of Equipment and DJ | 4 out of 5 | |
| | Music Choices | 5 out of 5 | |
| | Handling of Requests | 5 out of 5 | |
| | Microphone Use / Audience Interaction | 4 out of 5 | |
| | Would Recommend to Others for Similar Events | 100% | |
| | Value for Money | | |
Latest feedback comment for AClassEntertainments.co.uk


"Fantastic evening had by all, very professional DJ and was very accomadating to all the guests"
Read detailed feedback for AClassEntertainments.co.uk
Venues Played
Would you like your suppliers to be familiar with your venue? Here's a list of places that AClassEntertainments.co.uk has played at recently:
Like what you see?
Get FREE quotes from AClassEntertainments.co.uk and other suppliers in your area! Just supply a few basic details...