need
a

disco - access unlimited leads and enquiries
Through our network of websites we'll improve your brand awareness and find you lots of quality leads
Just one simple subscription buys
all

of this, from under

30p

per day!
Improved Brand Awareness| Thousands of Daily Impressions| Network of Entertainment & Event Related Websites| Trusted Feedback Platform| Leads, leads and more leads!| DJmark Awards Scheme| Recognition and Promotion| Join from less than 14p per day!

Improve
Brand Awareness
needadisco.com will plaster your company's details all over multiple websites visited by people looking to arrange parties and events. For every postcode area you subscribe to, you can expect hundreds, if not thousands, of impressions every single day, cementing your brand in the visitor's psyche and encouraging clicks to your website, social media pages etc. - and the more services you advertise, the more places we'll put you.
Build
Consumer Trust
Our trusted feedback system only allows reviews from previous customers that we have introduced to you. We don't accept reviews from anyone else, unlike pretty much every other review platform out there. So once you start to build up a needadisco.com feedback profile, you can refer potential clients to it safe in the knowledge that they will be impressed with the level of scrutiny. We know because lots of site users have told us so.
Access
Leads, Leads and More Leads!
We spend a lot of time and money capturing quality leads to share with our members. All leads are checked by humans before they are distributed, and we even supply you with detailed information about the venue in case it's new to you. Clients supply realistic budgets, and we offer an incredibly wide range of automatic filters so that you can focus on the types of lead that interest you most. Filter by price, event type, venue type, date, age range and more.
Earn
Recognition

with a

DJmark Award

Our DJmark Award Scheme rewards DJs that follow best practices and continually earn positive customer feedback with 4 levels of award that you can use in your own marketing. Customer and member feedback demonstrates the marketing power of the DJmark Award with many discerning brides and venues specifically seeking out mobile disco operators that are award holders. DJmark is FREE for needadisco.com members that meet the relevant criteria. DJmark Award holders are always promoted higher in our search results.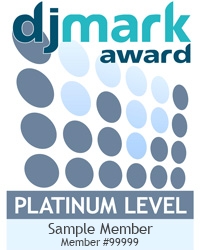 Advertise
Additional

Services Your subscription also includes free access to customer enquiries for...
Photo Booths
Do you offer a photo booth, selfie mirror, event photography, fake paparazzi or similar?
Dancefloor Hire
Many disco shoppers can be upsold to add dancefloor hire too - from plain to high tech options
Giant Letters
It started with LOVE and then came MR&MRS and now our visitors are looking for all sorts!
Karaoke
Karaoke is a popular add-on to a mobile disco package - around 1:4 DJ enquiries includes this option
Equipment Hire
Do you offer dry hire, or popular add-ons such as Silent Disco gear or PA reinforcement?
Event Catering
Everything from buffets and sit-down meals to candy floss and ice cream carts - our visitors are looking to buy!
Celebration Cakes
As we offer DJs for all occasions, we attract enquiries for all kinds of events - and many need a cake
Live Entertainment
Do you play an instrument, perform magic tricks or work with a good local band?
Children's Entertainment
We're always being asked for face painters, clowns, puppet shows, mascots, dancers - you name it!
Inflatable Hire
Do you offer bouncy castles or sumo suits? Many of our disco clients want to buy extras for the kids at the party!
Marquee Hire
Plenty of weddings and outdoor events need temporary shelters and everything that goes along with that...
Mobile Bars
Many of our events are held at venues without a bar - could you upsell the refreshments?
Photography/Videography
Around one third of our enquiries are for weddings, so photographers are a popular add-on request
Venue Decoration
From flowers and balloons to theming and props - many enquirers are looking for help transforming their venue
Party Planners
Can you turn your hand to event management? Plenty of clients are happy to pay someone to organise everything
Our Current
Portfolio
Depending on your preferences and configuration, your business could be appearing on all these websites within minutes of joining...
Subscription Rates
We offer a choice of 3 subscription types to best work with your own specific mobile disco and entertainment service business. It's easy to change subscription model at any time.
Remember - business advertising is tax deductible!
Subscription type
one

offers UNLIMITED ENQUIRIES from a defined geographical area

With our Unlimited Enquiries subscription simply pay for the number of postcode areas you want to cover and we will send you unlimited enquiries from those areas (depending on the services you offer and any filters you configure)

All monthly subscriptions have a £10 one-off joining fee - this means we can get you listed straight away whilst waiting for your first direct debit payment which takes around 10 days
3

POSTCODE AREAS


UNLIMITED ENQUIRIES

£10

/month
OR save 20%


£100