need

a

disco
unlimited leads and enquiries from just £10/month
Through our network of websites we'll improve your brand awareness and find you lots of quality leads
One simple subscription - no "credits" - buys
all

of this....
Improved Brand Awareness| Thousands of Daily Impressions| Network of Entertainment & Event Related Websites| Trusted Feedback Platform| Leads, leads and more leads!| Enquiries for other party & entertainment services| DJmark Awards Scheme| Recognition and Promotion|

Improve
Brand Awareness
needadisco.com will plaster your company's details all over multiple websites visited by people looking to arrange parties and events. For every postcode area you subscribe to, you can expect hundreds, if not thousands, of impressions every single day, cementing your brand in the visitor's psyche and encouraging clicks to your website, social media pages etc. - and the more services you advertise, the more places we'll put you.
Build
Consumer Trust
Our trusted feedback system only allows reviews from previous confirmed customers. We don't accept reviews from anyone else, unlike pretty much every other review platform out there. So once you start to build up a needadisco.com feedback profile, you can refer potential clients to it safe in the knowledge that they will be impressed with the level of scrutiny. We know because lots of site users have told us so.
Access
Leads, Leads and More Leads!
We spend a lot of time and money capturing quality leads to share with our members. All leads are checked by humans before they are distributed, and we even supply you with detailed information about the venue in case it's new to you. Clients supply realistic budgets, and we offer an incredibly wide range of automatic filters so that you can focus on the types of lead that interest you most. Filter by price, event type, venue type, date, age range and more.
Earn
Recognition

with a

DJmark Award

Our DJmark Award Scheme rewards DJs that follow best practices and continually earn positive customer feedback with 4 levels of award that you can use in your own marketing. Customer and member feedback demonstrates the marketing power of the DJmark Award with many discerning brides and venues specifically seeking out mobile disco operators that are award holders. DJmark is FREE for needadisco.com members that meet the relevant criteria. DJmark Award holders are always promoted higher in our search results.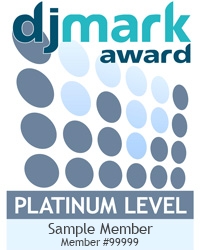 Join now from £10/month
Not just for
Mobile Discos!
Your subscription can also include free access to customer enquiries for...
Photo Booths
Do you offer a photo booth, selfie mirror, event photography, fake paparazzi or similar?
Dancefloor Hire
Many disco shoppers can be upsold to add dancefloor hire too - from plain to high tech options
Giant Letters
It started with LOVE and then came MR&MRS and now our visitors are looking for all sorts!
Karaoke
Karaoke is a popular add-on to a mobile disco package - around 1:4 DJ enquiries includes this option
Equipment Hire
Do you offer dry hire, or popular add-ons such as Silent Disco gear or PA reinforcement?
Event Catering
Everything from buffets and sit-down meals to candy floss and ice cream carts - our visitors are looking to buy!
Celebration Cakes
As we offer DJs for all occasions, we attract enquiries for all kinds of events - and many need a cake
Live Entertainment
Do you play an instrument, perform magic tricks or work with a good local band?
Children's Entertainment
We're always being asked for face painters, clowns, puppet shows, mascots, dancers - you name it!
Inflatable Hire
Do you offer bouncy castles or sumo suits? Many of our disco clients want to buy extras for the kids at the party!
Marquee Hire
Plenty of weddings and outdoor events need temporary shelters and everything that goes along with that...
Mobile Bars
Many of our events are held at venues without a bar - could you upsell the refreshments?
Photography/Videography
Around one third of our enquiries are for weddings, so photographers are a popular add-on request
Venue Decoration
From flowers and balloons to theming and props - many enquirers are looking for help transforming their venue
Party Planners
Can you turn your hand to event management? Plenty of clients are happy to pay someone to organise everything
Join now from £10/month
Subscription Rates
Pay ONE monthly subscription depending on the area size you wish to cover and the number of services you wish to advertise, and access as many enquiries as you like. No "credits" to buy, just one low monthly subscription.
There's a one-off £10 joining fee for monthly payers - this means we can get you listed immediately whilst sorting out your direct debit
Upgrade or downgrade whenever you like, and we'll give you a discount for paying annually. Simple!
3

POSTCODE AREAS


UNLIMITED MOBILE DISCO ENQUIRIES
PLUS 3 additional service categories

£10

/month
Proceed →

6

POSTCODE AREAS


UNLIMITED MOBILE DISCO ENQUIRIES
PLUS 6 additional service categories

£15

/month
Proceed →

12

POSTCODE AREAS


UNLIMITED MOBILE DISCO ENQUIRIES
UNLIMITED service categories

£25

/month
Proceed →
Want more postcodes or credits? You can add more at any time once you are a member - just £5 per month per 3 additional areas
There are 124 postcode areas in the whole of the UK - most of our members pay for 6 or 12 and this gives them plenty of enquiries to pick and choose from
We currently have 13 "additional service" categories - cakes, catering, children's entertainers, dancefloor hire, giant letters, inflatables, live entertainers, marquees, mobile bars, photo booths, photography, venue decoration and event planning.
Are you a former member looking to rejoin? Click here for more details
Thanks for reconsidering - we'll try to get you up and running again as quickly as possible with the minimum fuss. As soon as you rejoin and pay your subscription we'll start sending you new enquiries straight away based on the preferences we already have on file.
If you left us in the last few months you probably have a FREE listing (unless you specifically told us you didn't want this) in which case all you need to do is re-subscribe using one of the options above and we will re-enable your existing listing.
If you left us more than 3 months ago, or specifically told us to cancel your previous subscription, you will need to re-subscribe as a new member using the details above.
If you're not sure then subscribe as a new member using the details above and if we find a match on the database for your details we will reinstate your original listing.
---
Frequently Asked Questions
Who is needadisco.com designed for?
Whilst our main purpose is matching mobile DJs with suitable clients, we also advertise and provide leads for anyone offering Photo Booths, Giant Letters, Dancefloor Hire, Mobile Bars, Live Bands, Children's Entertainers, Bouncy Castles, Photographers ... basically any service or product typically associated with weddings, parties and celebrations.
Our primary market is, and always will be, mobile discos and associated services. So we are best suited to companies that specialise in this area, with perhaps a few side offerings.
How much does it cost and what will I receive in return?
If you are looking to HIRE a mobile disco, photo booth, dancefloor, party venue or any of the other products we advertise, use of our service is FREE of charge.
If you want to ADVERTISE any of these services, we have monthly subscriptions starting from just £10 and annual subscriptions from just £100.
Your subscription pays for your company being listed on needadisco.com as well as a number of other websites in our portfolio depending on the services you offer. On the needadisco.com website you will be given a public-facing Profile Page which you can embellish with lots of content - almost like a mini website featuring your business with pictures, descriptions, reviews, feedback, contact form and much more. You will feature in summary on search results pages (for example when people search by service or location) as well as on venue pages for those you have reviewed.
In addition, we provide optional free benefits at no additional charge which we change from time to time to keep abreast of market demands. Typical benefits currently include:
- inclusion of your company's details on other websites in our portfolio to drive additional enquiries via your needadisco.com Public-Facing Page and ultimately to your own website, Facebook page etc.
- access to enquiries ('leads') received via the needadisco.com quote request service
- access to enquiries ('leads') for disco, photobooth, dancefloor and giant letters (as per your configuration) received via other websites in our portfolio limited by your subscription level
- a DJmark Award if you meet the qualifying criteria
- a Direct Enquiry contact form featured on your needadisco.com profile page for site visitors to contact you directly.
- a range of tools to export needadisco.com lead information to third party databases and business management products along with an increasing number of on-site enhancements.
What do you mean by "non-disco" leads or enquiries?
We regularly receive enquiries from people looking for party services OTHER THAN mobile discos. In our experience, many mobile disco operators offer additional services, so we are happy to pass on these enquiries to our members too.
These are limited by your subscription, so for example if you pay for 3 postcode areas you can also choose up to 3 "non-disco" product/service categories too.
Our category list is:
- Dancefloors
- Photo Booths
- Giant Letters
- Live Entertainment
-Cake makers
- Catering
- Children's Entertainers
- Wedding / Event Planners
- Inflatables
- Marquee and Temporary Building Hire
- Mobile Bars
- Photographers / Videographers
- Venue Decoration
How much can I expect to earn from needadisco.com provided leads?
This is an impossible question to answer because there are so many factors involved. How empty is your diary? What rates do you work at? How far are you prepared to travel? What types of events are you happy playing? What services do you offer?
Our top performers earn around £300 in revenue for every £1 spent on needadisco.com advertising. That is a very impressive return on investment.
Remember - this is purely mobile disco revenue that we have tracked - it does not include direct business or any upsold add-ons!
Aren't there lots of low budget enquiries on needadisco?
That all depends on how much you charge!
needadisco.com caters for the whole market, from budget events in village halls and social clubs to top-end productions in castles and private marquees.
Take any geographical area on a Saturday night and there'll be far more DJs out earning £200 than there are out earning £1000+ and our enquiries simply reflect this.
However, we do have reasonable 'floor' values that we audit from time to time and won't accept enquiries below these levels. You can use our filtering tools to disregard enquiries that are below your own minimum rates, as well as different venue types, party types, age groups and so on, so you only get to see the leads that you would be interested in depending on your own personal preferences. If you're not prepared to load the van for anything less than £250, it's easy to hide anything below that amount.
See our current statistics page to learn more about the types of enquiries we handle and the average budgets involved.
I run an agency - can I join?
Yes, with a couple of caveats. Firstly we insist that you identify yourself as an agent so that potential clients are not misled into thinking they are dealing with a solo operator.
We would suggest setting up each DJ in their own right so that they can provide copies of their own documentation and achieve awards in their own names. You can still manage the admin centrally.
How many enquiries can I expect to receive in my area?
Anywhere between none and hundreds! This is another question that simply cannot be answered because there are so many variables involved!
We cover the whole of the UK and receive enquiries from every postcode area on a regular basis. Generally speaking, the enquiry volumes are in line with population centres - so postcodes covering large cities receive more enquiries than postcodes covering large, sparsely-populated rural areas.
Is there anything else I should know before I sign up?
We operate our service in an open and honest way. We want to attract professional, considerate and long-term members who are just as invested in our future as we are in theirs. Our websites are heavily moderated to ensure that we meet all relevant legal obligations and guidelines such as the ASA CAP Code of Practice for Advertisers. This level of moderation has been criticised by a few as 'heavy handed' but we believe that it has contributed significantly to our longevity, outstanding success and long-term customer satisfaction score of 99.98% since we launched in 2007.
Joining needadisco.com is an application process. Your application will not be automatically accepted. We reject around 10% of all applications where we feel that the applicant would not be a good fit, or, for example, where the applicant operates a competing business.
Therefore, in the spirit of openness we encourage all applicants to read the following before joining. These represent some of the commonly misunderstood aspects of membership.
When you join needadisco.com you will be given access to a secure Member Dashboard - a separate part of the website not visible to the public. Here you can configure your profile, set up filters, upload documentation etc., all of which will customise your listing and help build your ranking.
Some information you supply must be validated (eg. PLI policy, PAT records) before being accepted and flagged on your listing. Our admin team aim to deal with these within 1 working day but sometimes where we are dependant upon third parties, this may take longer. This team works "normal" office hours, 10am - 6pm Monday - Friday and we observe Scottish bank holidays.
As a member benefit, we will send you enquiries we receive in the areas which you tell us you cover. You can choose which areas to cover in Member Dashboard. The only exclusions to our 'unlimited' packages are those which require a DJmark Award (until you obtain one) and those where the client has specifically requested something which you do not offer (or are pending approval for) such as PLI. Via your Dashboard, you may also apply filters so that we only send you enquiries you are interested in receiving. For example, you can specify your minimum prices for certain types of function, ignore enquiries for certain age groups or venue types, and even block out specific dates on a calendar. Enquiries which are trapped by optional filters such as these may still be accessed but we won't send you notification messages about them.
Once we have ascertained that you are eligible to receive details of any given enquiry, a link leading to details will be added to your Dashboard. We will also send a notification email to the address we hold on file for you. If you are on an 'unlimited' subscription you will be given all of the information we hold about the event, including client contact details, the extent of which are dictated by the enquirer themselves. You are then invited to provide a quotation for the event directly to the enquirer. Should your proposal be accepted by the enquirer, you will contract with them in exactly the same way as any direct enquiry you may receive via your own advertising. If you are on a 'credits' based subscription we you will be given limited information about the event to help you decide whether you intend to bid, before proceeding with the credit allocation. This information includes the event date, type, venue type (if known) and locality, whether the client has requested email and/or telephone contact, and information on the number of other members the enquiry has been shared with and how many have responded / refused to bid.
A proportion of mobile disco enquiries require DJs to hold Public Liability Insurance (PLI). If you do not provide evidence of holding a current PLI policy, you will not be eligible for these enquiries. Additionally, some enquiries require DJs to hold current PAT records detailing tests undertaken within the last 12 months. Again, if you cannot provide evidence of current PAT you will miss out on these enquiries. If you do not have PLI and/or PAT you should consider the additional cost of obtaining these against the likely reduction in enquiries.
DJmark holders get priority listings and additional listings on other portfolio websites. To obtain a DJmark Award (which are free), we need to see a valid PLI policy, PAT records, and a sample client contract. All documentation must in the name of the account holder and match the account holder's address. If you have the documentation to hand, it literally takes less than 5 minutes to set this up. If your PLI is provided by MDJN or NADJ, we will even automatically check it on an ongoing basis for you so you only need to share it once.
We use a technique called 'Site Ranking' to determine the position in which each member listing appears when enquirers search our websites. The higher your Site Rank, the nearer to the top of the search results you will appear. The more evidence you supply of holding particular documents or following accepted industry best practice, the higher your ranking will be. You can also participate in the site by providing venue reviews and write-ups, redirecting your unwanted enquiries etc. and these will also help improve your ranking.
We are unable to guarantee the delivery of notification emails, therefore you will also be able to access details of eligible enquiries via the Member Dashboard at any time.
"Postcode Area" means a postal outcode or any subset of your choosing. For example, the RG postcode covers the towns of Reading, Basingstoke, Wokingham, Henley, Newbury and so on. You may choose to cover the whole of the RG postcode and this would count as 1 "area". Or you may choose to cover part of the RG postcode (eg. RG7, RG8 and RG9) and this would also count as 1 "area" because they all come under RG. The UK is divided into approximately 120 such areas from KW and ZE in the far north to TR, GY and JE in the far south. When you join needadisco.com you can choose how many postcode areas you wish to cover. Additional "areas" may then be purchased as an add-on to your subscription at any time.
Membership of some of our premium focused websites including needaweddingdisco.com and needakidsdisco.com will only be offered to those members holding a DJmark Award. Enquiries which originate from those websites will not be shared with non DJmark holders.
DJmark assessments are made on a daily basis, at the start of business. At this point all updates collected during the previous 24 hours will be considered. To prevent unproven members from rapidly progressing through the DJmark levels, you should be aware that it is not possible to obtain Gold until you have held Silver for three consecutive months, Platinum until you have held Gold for three consecutive months and Diamond until you have held a DJmark without a break exceeding 7 days for two full years in total.
All content supplied by you for inclusion on your public-facing pages of our website must comply with the ASA's CAP Code of practice as we have adopted these codes. These are designed to protect consumers by removing all ambiguity and misleading statements from advertisements. We therefore reserve the right to amend the details you supply in order to comply with our understanding of the codes, and you agree to this when joining the site.
Additionally, in order to ensure that the information presented on public-facing pages is current and accurate, and can be easily compared like-for-like with other members, all details you supply for publishing must meet our requirements and will be amended to suit our "house style" of publication. You agree to this when joining the site. A full list of aspects which are not allowed is available on request, and is clearly shown on the member dashboard pages when supplying data for publication.
needadisco.com operates a trusted feedback system. Clients who book DJs via our sites are invited to place feedback after their event. This is a mixture of multiple-choice questions and a written feedback comment. Members have the right to reply (once) to comments received. All comments are published along with star ratings based on the averages of the scores received and a "headline" figure showing your average feedback rating marked out of 5 for immediate comparison against other members. In dispute situations, members may keep a real-time pre-event commentary which will be published alongside negative feedback (but not positive). This commentary, the client's comments and the right to reply comment may not be edited once submitted. Clients may request that feedback is removed but not edited. Members cannot edit or remove feedback or commentary. needadisco.com do not mediate disputes. When joining the site you agree to our collecting and publishing of this data and these terms. Feedback is not currently collected for services other than mobile discos with/without karaoke.
Whilst the Member Dashboard is designed using "responsive" techniques meaning that it works on small devices as well as full-sized displays, members should be aware that this can lead to overly complex pages due to the level of detail involved. We therefore recommend a full-sized display for most administrative tasks. However, we have paid special attention to the day-to-day lead administration pages to ensure these can be used easily from mobile devices.
Support is provided via a special section on Member Dashboard accessed via the URL needadisco.com/support. We do not offer support via any other means including email, telephone and social media channels. Special provision has been made for issues at sign-on such as forgotten passwords and credentials.
Join now from £10/month