Introducing Tiger Feet Entertainment
Weddings, Christenings, Birthdays & Kids
Based in Southport. Find other local members.
Request FREE Quotes Now!
---
About Tiger Feet Entertainment
Tiger Feet Entertainment is DJmark accredited at Platinum level. What does this mean?
"Weddings, Birthdays, Christenings - whatever your celebration you can be sure that Gina will strive to give you and your guests a fantastic time!

Most Wedding Celebrations start after your guests have had a few drinks and the buffet has been served, so why not have Gina sing a few songs whilst your guests wine and dine?

If you are planning any kind of party and you have children attending, why not keep them occupied with a 1-2 hour party earlier on whilst the adults have a glass of wine or two, relax and discuss the day's events, or even join in the fun?

Face painting, balloon modelling, traditional party games, kids karaoke - and Minnie Mouse attending they will have a magical time! Or, if you are looking for a great evening of music for your wedding celebration, Christening or Birthday Party, I have it covered with all genres of music updated each week.

Why hire all kinds of entertainers when you can have everything with Gina?"
Official Tiger Feet Entertainment Pictures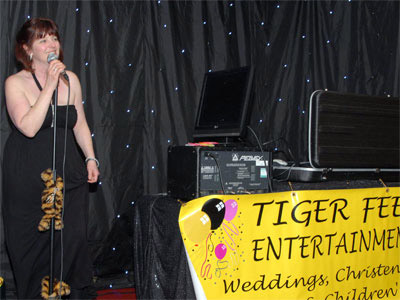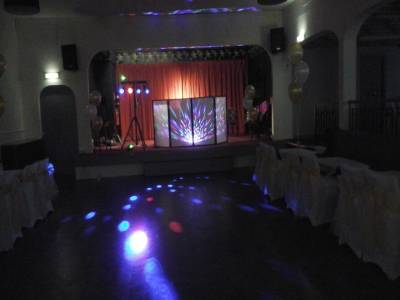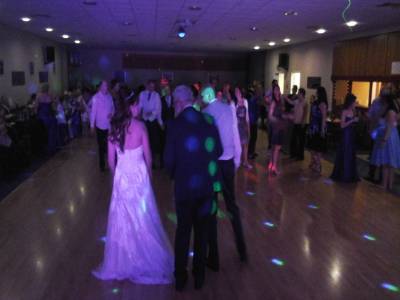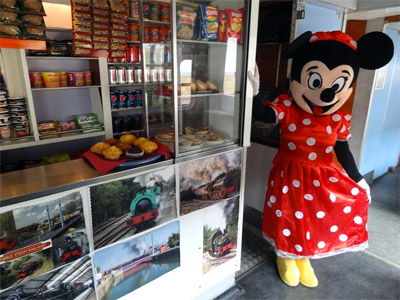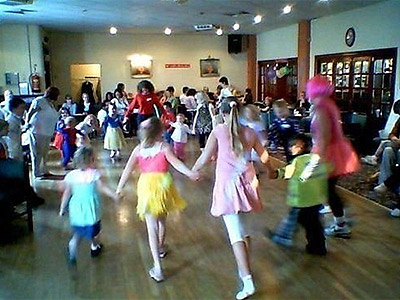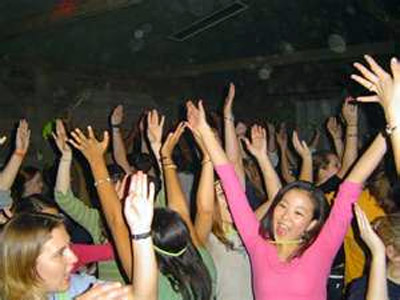 Services Offered By Tiger Feet Entertainment
Mobile disco service with sound system and effects lighting
Party Bags
Catering
Bingo Callers
Children's Entertainers (Generic)
Balloon Modelling
Hen & Stag Parties
Costumed Characters / Mascots
Face / Body Painting
Arts & Crafts
Quiz Events
Comperes
Karaoke (Standalone)
Singers & Vocalists
Projection
Venues Played
Since joining needadisco.com, Tiger Feet Entertainment has secured work at the following venues:
Walshaw Sports Club, Bury
---

Irlam Steel Recreation Club, Irlam
---
Graythwaite Manor Hotel, Grange Over Sands
---

DW Stadium, Wigan
---
Prescot Manor Bowling Club, Prescot
---
Holland Hall Hotel, Upholland
---
West Lancashire Golf Club, Liverpool
---
Rainford Labour Club, Rainford
---

St Mary's Parish Centre & Club, Chorley
---
Barton Grange Hotel, Preston
---

Winston Conservative Club, Manchester
---
Royal Clifton Hotel, Southport
---
Coverage Area
Based in Merseyside, the approximate area covered by Tiger Feet Entertainment is shown in green...
Client Feedback
Clients who find their DJ via needadisco.com are invited to feed back their experiences a few weeks after the event.
The star ratings below are calculated based on 4 client review(s).
| | |
| --- | --- |
| | Promptness |
| | Standard of Equipment |
| | Standard of Presentation |
| | Music Choices & Requests |
| | Audience Interaction |
Craig hired Tiger Feet Entertainment to perform at a Wedding event at Graythwaite Manor Hotel in Grange Over Sands on 08/06/2012.
"DJ was above and beyond. The kids loved the hats and balloon animals. Great value for money :-)"
---
Carol Liddle hired Tiger Feet Entertainment to perform at a Wedding event at Holland Hall Hotel in Upholland on 29/09/2012.
"Gina's attention to detail from first contact to the end of the event was outstanding. She gets to know you and works tirelessly to ensure your wants and needs are met, including adding extra value if needed on the day to ensure a seamless experience. We have hired other people for family events in the past and I can honestly say that Gina's service was exceptional - we would move a date to secure her again. Highly recommended"
---
Sally Port hired Tiger Feet Entertainment to perform at a Christening - Baptism event at Prescot Manor Bowling Club in Prescot (L35) on 22/07/2012.
"I would recommend Tiger Feet to anyone seeking a children's entertainer. The children loved the activities and music. Guests at the Christening commented on how good the entertainment was. Thanks Gina for leaving us with wonderful memories of a lovely day!"
---
Thompson hired Tiger Feet Entertainment to perform at a Wedding event at Graythwaite Manor Hotel in Grange Over Sands (LA11) on 30/03/2013.
"Gina was a great DJ at my daughter's wedding. She played the right type of music for everyone and involved the children as well. It was a very hard day for everyone concerned but everything ran smoothly. Thank you Gina."
---
The following DJs are available through Tiger Feet Entertainment:
Gina Morgan
"Weddings, Christenings, Birthdays & Kids"
Gina Morgan is a full time DJ with 2001 years of experience gained as a mobile disc jockey. Music specialities include: 70s, 80s, Country, 90s, Dance/Trance, and Disco/Funk.
Contact Tiger Feet Entertainment
Gina Morgan at Tiger Feet Entertainment can be contacted on 01704 233572 or mobile 07725 668471
Request FREE Quotes Now!
---
Direct Email
Email Tiger Feet Entertainment using the form below. This is a private email which will go directly to the company. If you would like disco quotes from all of our available DJs covering your venue, Click Here
---
This page was last updated: Tue 30 Apr 2013 20:36:14 BST
Content may be dynamically added when the page is refreshed.
needadisco.com is not responsible for the content of external websites